Anatomy of The Robert E. Webber Portrait:

Bob Webber specializes in immortalizing classic and historic watercraft. Other favorite subjects include antique motorcars and aircraft.
Whether gracing a conference room, main saloon, office, lobby or proudly displayed at home, The Robert Webber Commemorative provides an extraordinary remembrance of milestone achievements for you, business associates and family members to enjoy for generations to come.
The artist's work is regularly showcased at the Palm Beach Boat Show. Other yachting centers featuring the artist's work are Brooklin Boat Yard and Moores Marine's two locations in Riviera Beach, FL and Beaufort, NC. His work also greets customers at Hinckley Yachts in Stuart, FL and Huckins Yachts in Jacksonville, FL.
> Example style choices: (click images to view large)
| | |
| --- | --- |
| | |
| Single Image Scenic Format | Multiple Image Study Format |
> Limited edition prints with text details are available with commissioned work: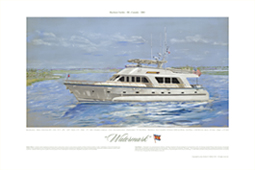 > Getting started:

Contact Bob directly and describe the project in which you've been thinking about. After gaining an understanding of the scope of your thoughts and some concepts for possible project execution, the first order of business is acquiring reference photography of the subject. In cases where acceptable, high-resolution photography exists, planning for the commemorative can begin without delay. Otherwise, arrangements will be made to obtain current reference photography.

Following review of all photographic images and thorough discussion regarding concept and execution - including details about builder and ownership histories - project completion, on average, can be expected within eight to twelve weeks. This would not include unforeseen delay caused by special circumstances, framing or shipping. While dimensions vary, framed sizes usually average 24" X 32" (61cm X 81cm).

> Pricing:

Pricing varies based on subject, logistics for reference photography, format style and individual objectives. Estimates are provided without obligation.

As a general rule, the single image scenic format for a yacht or ship portrait starts at $4,500. Muliple image studies can range from $5,500 to $8,500. If suitable photography of your boat already exists, pricing may be reduced accordingly. Aircraft and motorcar portraits generally range from $2,500 to $4,500. Final costs will be reviewed before work on the project begins.

> Archive digital files and limited edition prints:

Many of Bob's clients also request production of high resolution scans of the final portrait to be used for additional archival pigment prints on paper or canvas. This is an ideal way to share a treasured classic yacht portrait with family and friends or in additional locations -- such as a second home or office.